Kira's Photos: Fairhope, Alabama (June 2002)
I visited Fairhope again (I was there for a day last April during my trip to Florida) in June, once again searching for some idyllic place to live. My folks and I made the trip (8hrs by car, ugh) to look around and visit with relatives. My dad's aunt Judy and her husband George live there; my mom's mom is also in nearby Pensacola. Along with a few other aunts and uncles. So, it was an all-in-one trip...

Here are photos of the trip. Click the thumbnail images for more photos.

Views from the bayfront condo we rented, "Away at the Bay"
After we got into town, we went and visited with Judy and George for a bit, then headed over to Gambino's for some Italian food excess. I tried something a bit different, "Shrimp Pomadora" or something like that - shrimp and veggies in a wine sauce, over linguini... it was severely yummy. And of course I had to have another of their sinful espresso milkshakes for dessert. Moving here might be hazardous to my diet...
On day 2 (Wednesday), we drove all over, looked at lots of things. First, a stop by the Fairhope Yacht Club, the Eastern Shore Art Center, and a quirky little castle (someone's home) in Fairhope.
Yacht club; quirky castle
Next we headed downtown (such as it is - downtown consists of about a 2x3 block area, generally). Fairhope has lots of neat little shops, and wonderful landscaping - its really a gem of a town. There's a definite New Orleans flavor to some of the architecture too - lots of places have 2nd floor balconies with the wrought ironwork.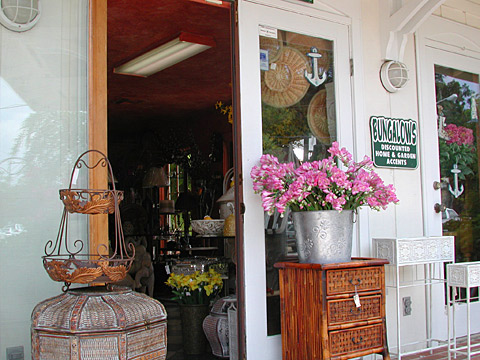 Downtown Fairhope
Then we drove south along scenic 98 to Point Clear. Scenic 98 runs through the pine trees, with homes on either side - very lovely area, I do love all the trees. We drove to the Grand hotel in Point Clear, and got some pix there.

Grand Hotel, Point Clear
Next we drove out to Gulf Shores - maybe a 30-40 minute drive from Fairhope. The drive out there is yucky- very commercialized, billboards and chain stores/restaurants along the road. Gulf Shores is total touristville, lots of huge hotels crowding the shoreline, but pretty good beach access. I love the water there though, so clear and a pretty blue-green color.

Gulf Shores

We returned to the place in time to see the amazing sunset.

A residential street in Fairhope.

Fresh produce is readily available at the many roadside markets in the area.
Friday we drove around more; went to Pensacola to visit mom's mom, and dad's brother; after that we drove through Perdido Beach and Orange Beach areas.

Friday - relatives, more bay scenes, kittens
Saturday we had lunch at Jesse's in Magnolia Springs; there I had the best grilled fish ever, a delicious blackened salmon, with fresh steamed broccoli on the side. I think the place (Alabama in general) made me want to eat better, just because there was so much fresh food around.
What I love about the area around Fairhope is it's beautiful, lots of gently rolling terrain, lots of trees, some open fields. South of Fairhope there were large fenced estates that reminded me of Kentucky horse country. And of course, there's beach 30 minutes away in Gulf Shores (though that area is pretty touristy).
I also like that it wasn't, well, "trashed out" the way lots of Houston seems to be. There we no refineries, no urban junkyards of run-down service stations littered with cars, no other blights on the roadside - yet. It's also very quiet there (barring the natural noises of the forest - frogs/birds/crickets/etc)... you don't get your windows rattled several times a day by helicopters buzzing the building or jets flying overhead. And it doesn't look as suburban as so many other cities do... at least, not yet.
More photos of Fairhope can be found here and here (Fairhope Art Fest 2003)
---
< Back to Photo Index